Utility Designation

The American Society of Civil Engineers (ASCE) has developed a standard of care guideline, which describes four quality levels of utility depiction.
Quality Level C - Information obtained by surveying and plotting visible above-ground utility features and by using professional judgment in correlating this information to Quality Level D.

Quality Level B - Information obtained through the application of appropriate surface geophysical methods to determine the existence and approximate horizontal position of subsurface utilities.

Quality Level A - Precise horizontal and vertical location of utilities obtained by the actual exposure and subsequent measurement of subsurface utilities, usually at a specific point.
GeoView has performed over 3,000 utility locate surveys for both governmental agencies and private contractors. GeoView can perform Level A through Level D surveys and offers an array of methods to locate underground utilities. These methods include:
Ground Penetrating Radar to help locate metallic and non-metallic pipes, conduits, septic areas or other conflicts. GeoView owns over 20 GPR systems with frequencies ranging from 100 MHz to 2600 MHz. 

Electronic Pipe and Cable Locators to help locate power and communication lines, metal pipes and utilities that have accompanying trace wires. GeoView owns the most advanced precision locators from Radio Detection, Subsite, Pipehorn and Schonstedt.

Underwater Utility Locating using a remote, submersible Radio Detection antenna to locate underwater pipes prior to dredging, bridge construction or other marine applications. Sub-bottom Profiling can also be used in certain instances to help locate large underwater pipes. After locating the pipeline, the positions can be recorded using differential GPS systems.

Electromagnetic systems to help locate deeper metallic pipes or other metallic conflicts. GeoView often uses EM31 and EM61 systems to help locate large metallic utilities.

Vacuum Excavation to safely dig down and expose the target utility or to assist in the safe performance of a soil boring.
The typical projects that utilize GeoView's utility locating capabilities include construction and excavation activities, environmental site assessments, design-build studies, utility upgrade/repair projects and locating voids and raveling zones around failed pipelines. The identified utilities can be marked in the field and/or documented on a scaled AutoCAD or GIS site maps. GeoView's utility locating personnel are all certified ground penetrating radar and electronic utility locator operators with extensive in-house training. 
Locating Fuel Lines with GPR at an Oil Terminal (GeoView is ISNetworld Safety Certified) 
Clearing Borings with Vacuum Excavation prior to Drilling Operations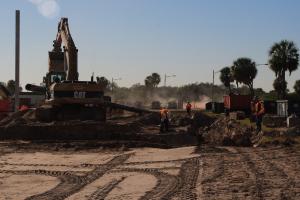 Using an Electronic Utility Locator to Mark Power Lines