Ultrasonic Pulse Velocity (UPV)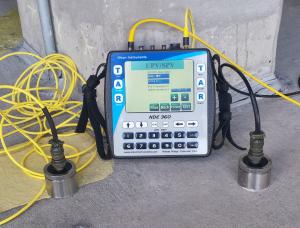 The UPV method is used to map and detect voids, honeycombing, cracks, delaminations and other construction related failures in concrete. It can also be used to evaluate conditions in wood, masonry, ceramics, stone and metals. The test is usually performed on columns, beams and walls. The UPV testing equipment consists of a pair of transducers which send and received a 50 kHz compressional wave. The direct first arrival time is recorded and the compressional wave velocity of the concrete is determined. Significant velocity variations across a concrete member indicate problematic areas.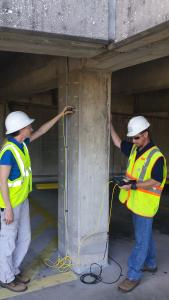 Typical test are performed by placing the source and receiver transducers on either side of the concrete member and collecting data along a systematic grid. For limited site areas, data can be collected on either one side or from the top and one side. Results are typically presented as a contour map of velocity. Concrete thicknesses of up to 6-8 ft can be evaluated. GeoView uses the Olson Instruments UPV-1 Ultrasonic Pulse Velocity system. 
UPV Testing Done as Part of the Quality Control Effords During Construction of the 600,000 Gallon Aquarium a the Miami Science Center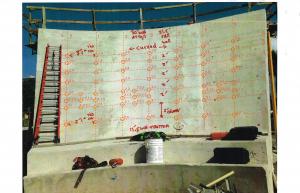 UPV Survey Grid